Habiter la terre – which translates to Inhabit the earth – is the passion project of Louise McKeever and Mathieu Munsch, based in the village of La-Grande-Fosse in the Vosges Natural Regional Park. Habiter la terre aims to promote autonomous living practices rooted in an understanding and respect of nature. Through sharing the knowledge and skills acquired through sculpting their home and carving a life out of the land around them, Louise and Mathieu aim to empower others to take steps towards regaining their own autonomy.
Louise is a basket maker, natural builder and teacher, originally from Ireland and works in both France and Ireland. Louise has studied with basket makers across Europe, including Ireland, France, Spain and Scotland. She has since dedicated her time to this ancient craft, learning about the plants and techniques used to create functional and beautiful baskets. Following her experience with natural building, she specialises in the use of wild clay, using natural pigments to paint and sculpt both pottery and plasters. Through research into traditional arts and crafts she has learned how to work with the locally abundant plants and clays.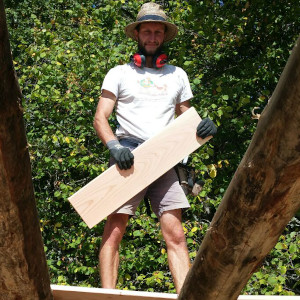 Mathieu learned natural building techniques with the UK company Hartwyn and designed the strawbale house he and Louise are currently living in. After a few years doing academic research on climate change, he left university to commit his time and energy to empower people through popular education. He believes that traditional crafts and knowledge have a key role to play in fostering cultures and systems fit for the crises of our time, and has worked over the years to turn his passion for nature into the cornerstone of his lifestyle. He is the dedicated cook of the house, and forages for wild foods which he then preserves in all sorts of ways, from sun-drying to fermentation.